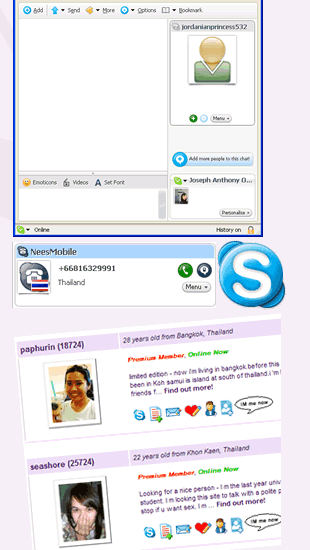 Use SMS, Chat and make FREE phone calls to other ThaiLoveLines.com members online.
Skype is a very versatile and effective communications tool. ThaiLoveLines.com incorporates this growing SMS, Phone, Chat and Web cam service into our Thai Dating site.

This is a Premium Membership service. You also need to download Skype from the Skype web site and run the software installation on your computer. This is very easy to do, the software loads in seconds. If you haven't a Skype ID already, you can register one easily. Again this takes just seconds. You can register this Skype ID when registering with ThaiLoveLines.com or later by going to Amend Registration in your Control Panel.

You will see a Skype icon for all Premium Members online. Simply click this to communicate with these members using any of the Skype tools. If the person has a mobile phone registered with Skype, you can find the SMS icon from the Skype panel. You may need to get approval from the other member first through Skype. You will also find icons for making Skype phone calls FREE from your computer and also Skype Chat which also allows you to send files and photographs. In addition Skype facilitates the use of web cams with audio visual communication.