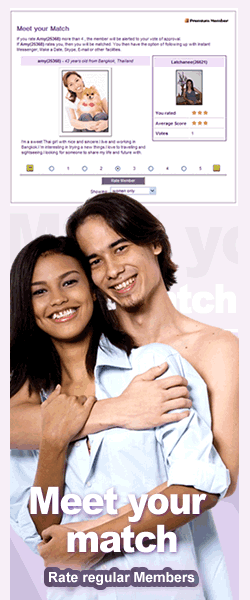 It's simple...rate other users and see if it's a match!


Meet your Match, an innovative dating tool from Thailand's leading dating site lets you have fun while finding your dream partner. Using our Meet your Match Pro programme, you rate other members on a scale of one to five, one after another.

Here's how it works:
You simply click to rate.
When you rate 4+, we tell them.
Two members rate 4+, its a match!
This is an 'icebreaker' tool.
Follow it up by 'Making a Date' online.
ThaiLoveLines.com notifies all members who you have rated four or five letting them know that you think they are hot. If another member also rates you, then you both will be matched and receive a match notification. You can also rate any individual member from their profile and you are alerted to profiles that have rated you through our Match Centre or when you see profiles with a star icon.

You can follow up Meet your Match by using our other communications facilities to begin talking and possibly develop something more.
This is now a Standard Membership facility. Standard membership is FREE allowing you an unlimited period of time to test the response to your profile on Thailand's largest dating site including our daily matchmaking programme for all members

Premium Membership allows you to take the process further by allowing direct one to one contact by e-mail, chat, audio or video. It commences at only $19.99 with very attractive volume discounts for longer periods.