Thai Girls call them Farang, many want to meet one for marriage, but is this Thai Love?
Thousands upon thousands of foreign men have been coming to Thailand for some years now looking to find true love with Thai women. Thai people call them 'farang', a word meaning foreigner first ascribed to French soldiers who landed in Thailand over two hundred years ago.
There are many reasons for this. Chief among them, Thai people are a very welcoming people placing great emphasison good manners and of course, Thai women are particularly beautiful. Foreign men find Thai women to be elegant, feminine and respectful of old fashioned virtues. Thai Women know how to celebrate and enjoy life. Finding a Thai bride, Thai girlfriend or Thai partner is a very good idea provided your approach is a positive and respectful one. In recent years Thai women, of all social backgrounds have used the power of internet dating to chat with Thai or foreign singles in Thailand and abroad. Thousands of Thai women meet foreign men every week on Thailand's biggest dating site, ThaiLoveLines.com, but there is a possible pitfall. Some foreign men visit Thailand, get involved with Thai bar girls or fail to understand the subtle nuances of Thai custom and tradition. What happens next is usually a disaster.
A wonderful new oriental life can turn into disappointment
Cultural misunderstanding between foreign men and Thai women can result in unhappy endings and much disillusionment. Stories are manifold. The flip side is that an increasing number of foreign men every year discover not only the possibility of a wonderful new relationship but also a wonderful new oriental lifestyle with a beautiful Thai woman while the unfortunate ones can be found on websites talking about the hidden dangers of Thailand, Thai Dating and their acute disappointment.

Who are these Farang or foreign men that come to Thailand?

Many foreign men are older, divorced or simply men who feel rejected by the social scene in their own country. The shift of values in western society in recent times, particularly those defining relationships between men and women have challenged many foreign men, who reject them. These foreign men are seeking a more traditional relationship with Thai women. In recent times, however, there is a growing number of younger, single foreign men also traveling to Thailand to meet Thai women. Most foreign men and Thai women, engaged in this process, are quite sincere. Success stories are easy to find and far more prevalent than horror ones, which do, exist.

Worldwide Thai Dating - a positive force?

At ThaiLoveLines.com, we feel that this phenomenon has great potential to enrich the lives of all parties to it including the people themselves, cultures and nations. Although the biggest growth now in Thai dating is within the home market, there are more and more younger people using the internet to meet Thai singles and foreigners both within Thailand and abroad. Many Thai women, involved in worldwide Thai internet dating, have a university education and are more interested in broadening their social horizons rather than simply finding a foreign husband. Many of these Thai women also date Thai men online. Conversely, many young foreign men visit Thailand to experience Thai culture and tradition and seek to form a relationship with Thai women. The key thing to remember is that there are two cultures here with two sets of ideals and expectations. Success springs from each party understanding the other.

Who are the Thai women?

There are many Thai women looking to meet a 'farang' in order to develop a relationship or find love and marriage. Yes, there is a financial motivation but also a sincere desire to learn another culture, find true love and understanding. While the foreign men, in most situations, having more superior financial resources, can call the shots, it would be a mistake to say this is the primary motivation. Many are younger Thai women who have finished their university education and are looking to broader horizons. Another group are middle aged Thai women, often divorced or widowed, who are looking to find a marriage partner for life. The third group would be younger Thai women interested in short-term relationships with younger foreign men living or visiting Thailand.

Where to live?

Where to live? Some foreign men elect to live in Thailand with their new wives (or husbands) but in most cases the Thai marriage partner travels to the foreign man's country. It is easier, however, for the farang to become part of Thai society. We recommend this, provided the farang has the resources and is well positioned to do so. One should not underestimate the challenge faced by a Thai marriage partner in living abroad. Thai women have a particularly fondness for their own culture which is really one of their most endearing qualities. Thai women enjoy living together and partaking in the simpler things in life like eating together and sharing each other's company. Many farang cultures are not at all like this. Different weather, work habits and attitudes make it a difficult thing for Thai women to relocate. However, they do, in increasing numbers. Any foreign man contemplating such a relationship should think carefully about the happiness and welfare of his future Thai partner .

Bar girl culture can confuse many foreign men

Look to the main stream, If you are a farang looking for Thai marriage partner, you should really find your future Thai wife (husband) from the mainstream of Thai society. There is a unique Thai bar girl culture in the tourist resorts of Thailand which is quite complicated for many farang as Thai women have a more positive outlook to what others term prostitution. Many of the Thai girls engaged in this are sincere and look on their work as earning money for their families while also providing companionship. The service provided is quite open in Bangkok, Pattaya and other resorts. However most Thai women (or men) looking for a future husband or partner are not at all like these Thai girls (or men).

Thai tradition and culture is a key factor but the internet is a social force

Thai women have an extremely traditional and conservative views towards sex and the behaviour of men and women before marriage. In fact, here's where it gets even more complicated, it is common in Thai culture for a man to pay money or contribute to the family when he takes a Thai bride. Here, Thai culture clashes with the popular notions in western culture often leading to misunderstanding. The internet has increasingly become the vehicle for Thai women to meet foreigners or Thai singles but it has also widened the the number and character of Thai women engaged in Thai dating both within Thailand and worldwide. The internet has given Thai women more social options.

Thai dating sites on the internet

Sites such as ThaiLoveLines.com have become very popular and successful all over Thailand among the proportion of Thai women who elect to marry 'farang' or Thai women who have decided to meet a dream life partner from among Thai singles or foreign men. Nearly all of these Thai women (and men) are polite, shy and decent Thai women who have made a choice to pursue a life goal using the internet. Increasingly computer literate, they sign up for many sites where they engage with 'farang' all over the world as well as more progressive Thai men. Many have a problem with translation and enlist the help of friends to chat with internet friends. Of course, there are reports of some people exploiting Thai women promising to develop their profiles or find them a farang partner for money.

You need to work at Thai internet dating

Finding a Thai partner or Thai Love through the internet takes effort and repeated use of the Thai dating site. We recommend that you make many contacts online while endeavouring to be polite and strictly honest in any representation made. Remember that all online parties have expectations. The key is to achieve a balance of being forthcoming and honest while understanding the expectations of those whom you are talking with. Remember that Thai women are polite and sometimes quite innocent by western standards. Most Thai women have extremely traditional and conservative views. In other ways, they are more open but they always expect good manners.

Thai matchmaking online

There are dating agencies which provide the old fashioned service of introducing foreign men to potential Thai partners. ThaiLoveLines.com does not do this. You may find this a no nonsense way of finding a Thai wife although for some, it is a bit odious. We strongly support the internet approach and you will find an old fashioned 'matchmaking' service among the facilities on Thailand's leading dating site. Many of our Thai women are 'mainstream' and come from clerical and professional backgrounds. Many are career professionals who have decided they would like to meet 'farang'. You must remember that Thai society is rapidly developing and emerging, as can be seen from the speed that young Thai women and men have adapted to the internet and the communications revolution in Thailand.

Lost in translation - the language barrier

Be aware of the language barrier. Many of the Thai women online seeking farang have limited or no English. While this obstacle must not be underestimated, it should not be fatal to the prospect of contacting Thai singles online. Indeed it can be quite rewarding. It can also be quite frustrating trying to express deep emotional feelings if one cannot speak the same language. Many Thai women go to English school, some already have rudimentary training but it still a real challenge. While some foreign men avoid non english speakers online, this is shortsighted. The experience of learning each other's language and culture together can be enjoyable.

Understand Thailand and Thai culture is essential

Among some sections of Thai society, the phenomenon of Thai women marrying farang used to be frowned upon until recently. The more time you take to understand Thailand's culture and its people, the more likely you are to find a better Thai match. This approach could be very successful if you have the time. While it is quite easy to find a Thai partner or girlfriend, it takes effort to find a deeply satisfying and harmonious relationship.Many farang who have come to live in Thailand have founded extremely successful relationships. This group of people have, from the outset, treated Thailand with respect and set out to try to understand the culture and its people. The combination of the Occidental and Oriental can be something very enriching for both parties. There is plenty of time and opportunity for social interaction in Thai society. If you visit Thailand and do not find someone on your first trip, make new friends and develop networks for future trips. You have to like Thailand and its culture ultimately to have a successful relationship with a Thai partner. Do not sell yourself and your future Thai partner short. Relationships demand emotional as well as financial commitments.
ThaiLoveLines.com is Thailand's biggest internet dating site with over 150,000 members and growing rapidly …

Begin your search for a Thai girlfriend, wife or partner here.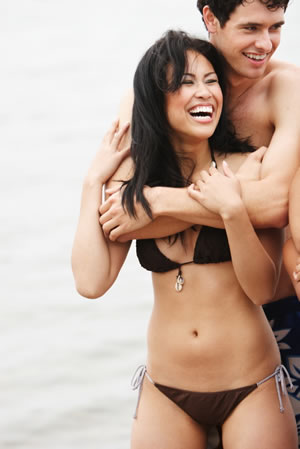 You will find thousands of attractive Thai Ladies and singles seeking soul mates in our
Thai Women's Photo Gallery.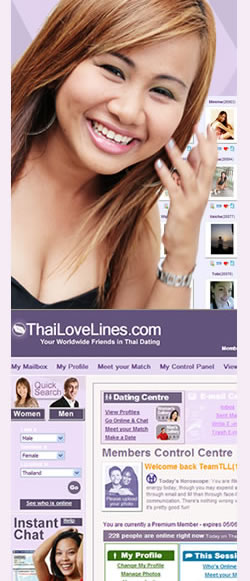 Other resources you might visit: